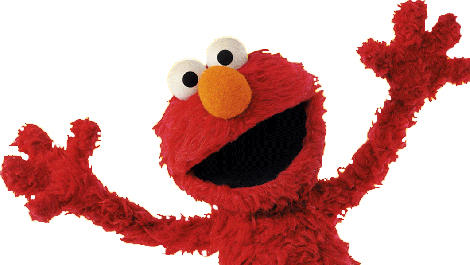 This month at Total Film we…
Shared a lift with Kate Hudson and Matt Bellamy at a Devon train station.
Enjoyed a sneak peek at four of Sky's upcoming American imports… while stuffing ourselves with American food.
Found ourselves in the same hotel as Sesame Street 's Elmo! We were interviewing lovely Colin Farrell – but screw that, Elmo was there! Colin even had his photo taken with the cheeky little fellow.
Swapped anecdotes about old school teachers with Great Expectations director Mike Newell, who offered us some sage advice (which we have since taken).
Ran around an industrial estate in Droitwich chased by werewolves as part of wish.co.uk's Wolf-men experience . Too frightening, but we learnt we quite like shooting guns and hitting people. Worryingly.
Discussed our favourite horror movies with Sam Rockwell (he's a big fan of Rosemary's Baby ).
Checked out half an hour of (ace) footage from Disney's Wreck-It Ralph , and felt like getting the Sega Megadrive down from the loft.
Ruined a pair of boots trudging through ankle-deep Victorian mud on set of Great Expectations . And were terrorised by massive horses.
Discovered that one of us went to uni with Andy Samberg (UCSC). Go, banana slugs!
Made unintentional sexual innuendo to Daniel Craig on set of Skyfall . He teased us about it for rest of conversation.
Enjoyed lunch in the building used for SPECTRE's HQ in the pre-title sequence of From Russia With Love at Pinewood Studios.
Scoffed a full buffet lunch while Quentin Tarantino talked up a storm about Django Unchained .
Stopped Benedict Cumberbatch from eating his lunch because he's too polite to talk with his mouth full.
Discussed caffeine buzz overloads with R-Pattz.
Attended the LA cast and crew screening of House At The End Of The Street , where they served the finest tuna-steak-and-avocado burgers ever tasted.
Took Dario Argento for a Japanese meal. Gave him our chopsticks after he'd dropped his on the floor.
Talked to Jennifer Lynch about her vagina.
Gave Javier Bardem a tissue for his cold.
Discussed Liverpool FC's appalling start to the season with Daniel Craig.
Flew to sunny Barcelona to chat to Hugh Jackman, where we discussed who would win in a fight between Wolverine and The Avengers, and bantered about the fact that Wales had just lost another rugby test against Australia. Just wait til December, Hugh…
Discovered via Jeremy Irvine, that Helena Bonham Carter creates a bespoke perfume for each of her characters. She has a professional perfumier whip up a signature smell.
Read more about our escapades in the new issue of Total Film magazine (opens in new tab) .
Or try out our interactive iPad edition .